Exclusive Interview: Ferran Adrià on Gastronomical Innovation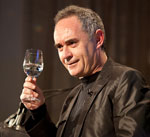 "[W]hen a person or entity who's at the top of their discipline decides to share it—decides "to give it away"—that is a revolution."
Catalan chef Ferran Adrià talks with AS/COA Online Managing Editor Carin Zissis about his plans to work in partnership with Telefónica to turn his world-famous restaurant El Bulli into a creative and culinary think tank. Adrià, currently on tour to talk about El Bulli's evolution and gastronomical innovations over the years, plans to host cooks from all over the world at El Bulli Foundation in Spain. Ideas produced at the foundation will be disseminated via the Internet, including thousands of El Bulli's groundbreaking, experimental recipes.


---
---
AS/COA Online: Come 2014, El Bulli will be transformed into a foundation described as a "laboratory." How will this—and your work with Telefónica—change the way your culinary ideas and innovations are shared?
Ferran Adrià: El Bulli Foundation is more than just gastronomy. It is a project about creativity. It is a project that is incredibly revolutionary. There are not many reference points for this; we are constantly looking for reference points and we cannot find any. More than anything, it is a dialogue with society about creativity. Both Telefónica and I believe that creativity and innovation are indispensable tools for the future. And that pretty much defines the foundation. It is also a place to discuss cuisine, but let's not call it a kitchen. Let's call it a place for thought.
AS/COA Online: Your classes at Harvard combined chef demonstrations and physics classes. How has the course helped you harvest ideas for El Bulli Foundation?
Ferran Adrià: Well, this course, which began last year, is a course about gastronomy and science—and the first one in the world. More than anything, what's important in the world of gastronomy is knowledge. When entering Harvard, one enters a university and a new world never entered before: the university and knowledge. At Harvard, this meant using the kitchen as a language to teach about another discipline. To teach quantum physics you can use the kitchen; to teach art you can teach with and use the kitchen. And it is something that I had never known how to do.
The exchange between the kitchen and science is an excellent one. For me, personally, my experience at Harvard was thrilling and I made a five-year agreement that will allow me to continue as a visiting professor. Overall, what calls to me is creativity and I will use the kitchen as a language, but my passion lies with creativity. I go there to dialogue, to share, to learn, and to teach about how science and gastronomy relate to creativity.
AS/COA Online: Your tour with Telefónica will stop in some of world's main cities, such as Miami, London, Buenos Aires, Berlin, and Mexico City. How do you think that culinary innovation differs from country to country?
Ferran Adrià: Well, what's interesting about working with Telefónica is Latin America. Right now, Latin America is living through a very important cultural euphoria through its cuisine. In particular Peru is experiencing sociocultural phenomena through gastronomy. There is no other country that I know of where this is happening like in Peru.
I've hardly been to Latin America, especially in the last four to five years. When I go on vacation, I actually go to work. We're going to take advantage of Telefónica's importance through all of Latin America, where people admire my work. For me, in Latin America, and this is the seed we want to plant, young people are interested in creativity through gastronomy.
So we're trying out an experiment that is very interesting and that is working well with Telefónica. I put my faith in gastronomy because it is a language that we all know, that everyone takes part in, and that is somewhat unexplored. There are no companies that dedicate themselves to this kind of project. There hasn't been reflection and there isn't reflection on whether they should support gastronomy, support nutrition, and that supporting it means bringing it to the entire world. Everyone in the world eats, right? Telefónica has supported this and, for that, I'm glad.
AS/COA Online: So, in Peru, what activities will you be involved in there?
Ferran Adrià: In Peru, I am going to stay with Gaston Acurio who is a very good friend of mine and we are going to stay for about 10 days. I am going to see Peru, because I never been there before. I am going to see the kind of work he does, we are going to conferences with Telefónica, and will go to universities, too.
AS/COA Online: With the El Bulli Foundation, you're going to share knowledge online?

Ferran Adrià: Yes, through the Internet. The Internet has changed the world. Well, there are many things that I do not like about the Internet, but there are things I do like and that's why it interests me as a tool to spread information. This is what I am going to do with Telefónica because that is what is great about the Internet: that people have access to everything. We're going to share, on a daily basis, all the creativity and share everything we do with the world. I am all about the world of the Internet for sharing.
In my case, as a chef at a restaurant like ours, the avant-garde world decides that the moment has arrived to do something with society, and the foundation is going to share what it has with them. Creativity is tremendous, but we're not multimillionaires giving out money—no, no, no. Sharing is knowledge. We are going to share this knowledge, which is like a reference book. To say that this doesn't exist because of what is available right now is easy. But when a person or entity who's at the top of their discipline decides to share it—decides "to give it away"—that is a revolution.
AS/COA Online: El Bulli Foundation is going to give chefs from around the world the chance to study?
Ferran Adrià: Yes. But not to study, the idea is to create. Sometimes it is more than creativity. But there will be scholarships. For example, in Latin America there are many people who simply cannot afford to lose a year of work. So there will be scholarships so that they can join us—but not only for young people. The main thing is that we want people with creativity and that I am one for supporting young people, but also we can't forget those who are not so young, because today to be 60 is considered to be young, too. And we have to change that idea: the idea that we should only support young people. We should also think about those who are 50 and 60 years old who have creative spirits. We need to support them, too.
AS/COA Online: One more question. How has Spanish culture and art helped you with your project?
Ferran Adrià: It absolutely has. At the end of the day, you think about who you are. For instance, when I wake up, I am in Spain. It is true that the world has changed and I have been staying in New York City for many days in a rundown area. I see that this is the world. The world is one's local feeling, but with the good that the rest of the world has to offer. I think that it is silly that somebody does not see and take advantage of what the world has to offer, to close oneself off in one's world and think it's the only good thing. In my world there is a lot that's good, but there are other worlds that are better, right?