Evo Wins Bolivian Vote by a Landslide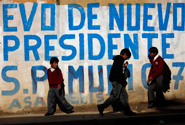 Updated December 7 - In the months leading up to Bolivia's December 6 election, polls signaled that President Evo Morales would be a shoo-in for reelection. In the end, he pulled in even more votes than predicted. Initial results showed him winning almost 63 percent of the votes—roughly 35 points ahead of his top rival, former Cochabamba Mayor Manfred Reyes Villa. Moreover, the Movement Toward Socialism party won a majority of seats in the lower house and captured a two-thirds supermajority in the Senate. Moreover, five departments and one province voted for autonomy. 11 municipalities voted for indigenous autonomy, allowing them to make use of traditional indigenous political structures. As a Los Tiempos interactive shows, political divisions remain between the country's east and west, with the former overwhelmingly voting for Morales while Manfred Reyes won three easter departments.
During his victory speech, Morales pledged to "accelerate the pace of change." It was the opposition-controlled Senate that often forced the Morales government to compromise during the constitutional reform that took place in recent years. Bolivians voted in favor of a new constitution in January 2009, paving the way for South America's first indigenous president to run for a second five-year term. With Sunday's win of the Senate, Morales will face fewer obstacles to expanding his reformist agenda. Since taking office, the former coca farmer and first indigenous president overhauled the country's natural gas industry, nationalizing operations and increasing the government's take in profits. Last month, the International Monetary Fund (IMF)credited commodity-exporting Bolivia with applying "a correct macroeconomic policy" during the global financial downturn. The IMF also forecasts a growth rate of 2.8 percent this year, making it one of Latin America's strongest economic performers.
Though Morales' presidency has been marked by deep political divisions in the country, the opposition failed to put together a platform to eat into his support. Still, during campaigns, Morales declined to participate in public debates, despite that fact that polls show three-quarters of Bolivians wanted the candidates to do so. Although no debates took place for candidates to hash out differences, the Cochabamba-based Democracy Center offered an analysis on major issues, exploring candidates' stances on government structure and the new constitution, spending of the windfall from commodities, coca and drug eradication, and relations with the United States (still frosty) and Venezuela (still warm).
Compared to Honduras' recent elections, Bolivia's may seem straighforward. But the race has its own dramatic touches. Reyes Villa's running mate, former Prefect of the Pando province Leopoldo Fernández, campaigned from prison. He's been there for the past year under accusations that his government orchestrated a massacre of roughly 30 MAS supporters during September 2008 clashes. Reyes Villa, a former military captain, could be headed for a similar fate; Morales indicated last week that he's planning a post-election justice-system revamp that would send his opponent to jail on charges of misappropriating state funds. "Leopoldo Fernández ran for office to get out of prison, and Reyes Villa campaigned to stay out," Morales said Tuesday. "We're going to change the justice system, and both will end up in prison. They're delinquents." Los Tiempos reports that Reyes Villa, not taking the threat idly, purchased plane tickets to the United States with a departure date of Monday, December 7—the day after the election.
Learn more: