Energy in Peru: Opportunities and Challenges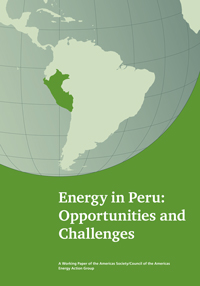 This working paper explores the transformation of Peru's oil and gas sector from an industry in decline to a major contributor to economic growth in Peru. It begins with a brief history of oil and gas in Peru, including the important hydrocarbon reforms of the early 1990s and the development of the Camisea natural gas fields. The paper then focuses on the benefits of natural gas to Peru and the need to balance oil and gas development with environmental and social protections. Finally, the paper makes several recommendations based on Peru's experience but intended for broader hemispheric consideration. These recommendations are drawn in part from a high-level meeting the Americas Society/Council of the Americas Energy Action Group held in Lima, Peru, on November 2, 2009. The meeting brought together senior representatives from the public and private sectors for a discussion of energy and climate issues in Peru and the Andean region.
---
---
Briefly, the recommendations are as follows:
Peru should ensure a long-term commitment to market friendly policies for energy development. Candidates for the 2011 presidential election should pledge to maintain a favorable investment climate as well as stringent environmental and social standards.
The reforms that have made Peru attractive to oil and gas investors have also challenged Peru's ability to monitor and enforce environmental and social standards. Peru should use this as an opportunity to become a model for the region in environmental and social management.
Peru should continue to ensure its domestic market benefits from natural gas produced locally, including using natural gas to provide electricity to people without access to modern energy services.
Peru should seek to further regional energy cooperation as a means to strengthen political and economic relations with its neighbors.
To the extent that proven reserves of natural gas and domestic consumption needs allow for exports of LNG, and barring the possibility of supplying other Latin American countries, Peru should take advantage of its location on the Pacific coast to target Asian markets.
The Americas Society/Council of the Americas Energy Action Group brings together the public and private sectors to develop strategic energy policies for the Americas. The EAG hosts forums in cities across the Americas and publishes working papers and recommendations on key energy and climate topics.