Building the Hemispheric Growth Agenda: A New Framework for Policy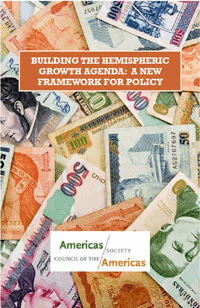 The Trade Advisory Group of the Americas Society/Council of the Americas on January 13 released a major report, Building the Hemispheric Growth Agenda: A New Framework for Policy (PDF), detailing specific ways to reignite trade and integration with Latin America even during troubled economic times. As the impact of Wall Street's meltdown plays out across the hemisphere, leaders are grappling with ways to consolidate their recent economic advances. Trade expansion must remain an important part of the equation, and the report offers practical guidance for hemispheric leaders as they work to build a broader agenda in advance of the next Summit of the Americas in April 2009.
Developed through by-invitation roundtable policy discussions, the report outlines several steps that can be taken to bolster trade expansion efforts. For example, the harmonization of rules of origin within existing US trade agreements, the creation of a subgroup of willing nations to lead hemispheric energy security and climate change initiatives, increased engagement with the Asia-Pacific through participation in the Trans-Pacific Strategic Economic Partnership, and broader cooperation with Brazil should all be considered.
"I hope President Barack Obama and his foreign policy team take heed of this important document put out by the Americas Society/Council of the Americas. It is a valuable proposal for revitalizing hemispheric relations and placing Latin America and the Caribbean, in partnership with the United States and Canada, at the forefront of the global economy." Alvaro Vargas Llosa, Senior Fellow, Center for Global Prosperity at the Independent Institute. 
Click here to download a PDF of the report.
For more information, please contact Kezia McKeague at kmckeague@as-coa.org.