With Bond Issue, Bolivia Envisions a Coming Out Party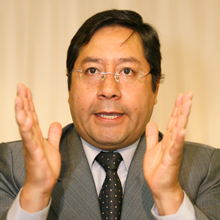 With ongoing worries in the eurozone driving investment toward more stable emerging markets, Bolivia wants a piece of the pie. To that end, last week Bolivian Economy Minister Luis Arce Catacora announced a plan to issue a $500 million bond sale on the global market—the country's first since 1920.  "Bolivia has the opportunity to capture capital looking for a place to land," Arce told reporters at a press conference for an Inter-American Development Bank meeting in Montevideo, Uruguay. With the bond issue, Bolivia has two goals: to raise capital and to attract investor attention. While foreign direct investment in Bolivia grew 51 percent between 2009 and 2010, it remains low at $651 million, reports the Financial Times. "A lot of capital is coming to South America, especially Brazil, and we would like to take advantage of this to show the world that Bolivia can also attract this money," the economy minister told Euromoney in February. 
But Bolivia's reputation as an investment risk precedes it. A nationalization of the country's oil and gas industries shortly after the election of current President Evo Morales in 2006 spooked investors, who feared a policy shift in line with Venezuela. Morales defended the nationalization as putting national resources in the hands of the people, a hallmark of his economic model. That model, which favors more state involvement in the economy, causes some to group Bolivia alongside Ecuador and Venezuela among the region's riskier investments. Previous political disruptions also brought bad press. Morales' two predecessors were removed from office after massive protests, and a huge indigenous demonstration last year halted construction of a $420 million highway financed by Brazil's development bank, the BNDES. 
Despite those issues, Bolivia's government hopes publicizing the facts can help lift the country's reputation. A 2009 report from the Center for Economic and Policy Research shows Bolivia's economy has grown faster under Morales than at any time in the previous 30 years. Data from the Economist Intelligence Unit indicates this expansion continued through 2010 and 2011, showing 4.5 percent growth last year. At the press conference in Montevideo, Arce highlighted the government's successes: it achieved a fiscal surplus every year between 2005 and 2011, and during that period reserves grew from $1.7 billion to $12.7 billion. Public debt remains low compared to GDP, and inflation is under control, reports Financial Times' BeyondBrics blog. In addition, as GDP per capita doubled since 2006, the World Bank promoted Bolivia from a low to middle-income country. The three main rating agencies also recently promoted the country's credit rating to B-plus, though this is still four notches below investment grade. This means Bolivia will probably pay a higher interest rate on the bonds than its investment-grade neighbors in the region such as Colombia, Mexico, and Peru, which all profited from large-scale bond sales recently. Though it may be more costly, the Bolivian government bets it will pay long-term dividends. "The main focus is to show Bolivia to the international capital markets," says Arce.
Bolivia hopes to use proceeds from the bond sale to drive investment in industrialization and resource extraction. The country has the region's second-largest deposits of natural gas after Venezuela, and the world's largest deposits of lithium, a key element in cellphone, MP3 player, and electric car batteries. Both industries could use investment and updates in technology. Investments in industrialization, such as food processing and hydroelectricity, are also on the government's agenda. "We have plenty of projects in mind," Arce told reporters in Montevideo, "We lack the money."
Learn More: