Bolivia, Venezuela Vote Again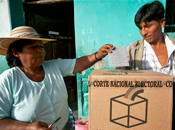 Voters in Bolivia are weighing in on their political futures as they take their turns in referenda once again. On January 25, Bolivians headed to the ballot box to vote in favor of a long-delayed constitutional referendum promised during President Evo Morales' 2005 campaign. On February 15, voters in neighboring Venezuela participate in their own referendum on whether their president can seek indefinite reelection powers.
On Sunday, Bolivians approved the new constitution by as much as 60 percent, boosting Evo Morales' mandate. The Cochabamba-based Democracy Center outlines top issues dealt with in the 411 articles of the new constitution, from reelection to land reform. The document would allow Morales to seek reelection once, opens the door to government takeover of unused tracts of land, limits the amount of land that could be purchased, and sets up risk-sharing arrangements for private oil firms, and guarantee access to social security.
Despite the strong showing in support of the constitution during Sunday's election, four departments in the lowlands appeared to have rejected the document. The prelude to Bolivia's Sunday vote reflected the deep divide among the country's citizens in terms of how the country should move forward. In 2008, autonomy votes in those four departments sparked violent protests. A recall vote in August reaffirmed Morales' legitimacy. An October compromise between government supporters and opposition leaders—accompanied by multiple changes to the draft of the constitution—paved the way for Sunday's referendum.
In his blog Pronto, Bolivian political scientist Miguel Centellas warns about the political fractures running through Bolivia and notes that, even though Morales won the recall vote by a wider margin than he won the presidential election, his support dropped in eastern and southern departments. "As the date of the referendum approaches, new political divisions are emerging," writes Centellas. Leaders of Bolivia's evangelical movement, previously supportive of Morales, have come down on the side of "no" on the constitution, citing opposition to provisions they say encourage abortion and homosexuality.
Meanwhile, in Venezuela, the electorate voted and rejected a new constitution in 2007, dealing a blow to Chávez's ambitions to mark Venezuela's Magna Carta with his agenda. Venezuelans will soon decide whether to allow Chávez to run for reelection indefinitely. Keeping in line with constitutional law, Chávez's Partido Socialista Unido collected more than 5.5 million signatures to hold the referendum. Facing the economic impact of declining oil prices, Chávez decided to push for the referendum as soon as possible, while his popularity continues to run high. The Los Angeles Times reports that, despite Chavez's high approval ratings, polls show the president in danger of facing defeat next month. As the February 15 vote approaches, protesters against the vote have taken to the streets. On Tuesday, marchers clashed with police, who—under Chavez's orders—used tear gas and water cannons to disrupt the marches.
The government announced that Chávez's popular Sunday television segment Aló Presidente will not air until after the referendum. However, the president will write a new syndicated column three times a week starting January 22.
Read AS/COA interviews with Venezuelan opposition leader Leopoldo López and student activist Yon Goicoechea.
Updated January 26, 2008.