Arturo Herrera: Les Noces (The Wedding)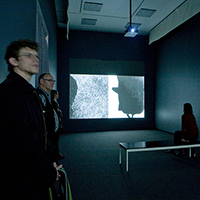 On February 3, 2011, Americas Society will premier its latest exhibit featuring artist Arturo Herrera. The exhibition, titled Arturo Herrera: Les Noces (The Wedding) and curated by Gabriela Rangel (Americas Director of Society Visual Arts) is guaranteed to touch upon all the senses of the spectator.
Les Noces is anchored by a digital projection--the artist's first work to incorporate sound and moving images. This two-channel projection is based on the 1923 ballet, scored by the composer Igor Stravinsky for Sergei Diaghilev's Les Ballets Russes, one of the 20th century's most significant modernist experiments of gesamtkunstwerk. According to Herrera, "Stravinsky actually built The Wedding from snatches of song--some vulgar, some poetic--that accompany a wedding ritual... The text is carefully constructed through fragmentation and repetition from anthologies of Russian folklore. He built it out perfectly to his specifications, but it's based totally on nonliterary verse. So the film is based also on that kind of arrangement."
Presented for the first time in New York, Les Noces, shows fragments of Herrera's own work in an ever-shifting dance of abstract black-and-white images set to Stravinksy's music. The artist worked with a computer programmer to develop software that draws randomly from this database of images to create a changing sequence in response to the pitch of Stravinsky's music. This chance-based process intentionally invokes the mutable nature of performance, as well as the transformative power of collage: no dance is ever performed exactly the same way twice.
The show will also feature several pieces in which Herrera's fragmentation process is revealed, including one of his first collages from the 1990s, some of his most recent floor pieces, works on paper, and cut-outs, as well as the black and white photographic series from which the artist departed for the installation Les Noces.
The piece Les Noces is sure to be a unique experience for the unsuspecting spectator. It is a work driven by music and video and I am extremely proud to host Arturo Herrera's work in New York City.
For true followers of Arturo Herrera or for those interested in meeting the artist in person and seeing the exhibit, Americas Society will present a panel discussion with experts on the intersection between performance and modern dance on Monday February 7, 2011 click here for details.