Americas Society
Council of the Americas
Uniting opinion leaders to exchange ideas and create solutions to the challenges of the Americas today
Arminio Fraga Neto and Stuart T. Gulliver Honored at Americas Society 38th Annual Spring Party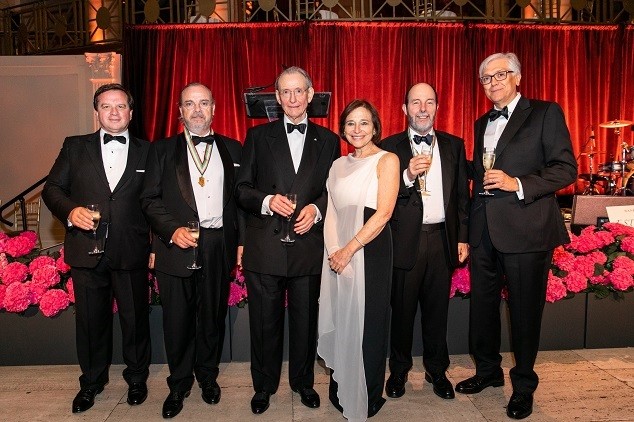 New York, June 13, 2018—Americas Society is pleased to announce the recipients of its 2018 Gold Medal: Founding Partner of Gávea Investimentos Arminio Fraga Neto and former Group Chief Executive of HSBC Holdings plc Stuart T. Gulliver. More than 400 guests from the world of business, philanthropy, government, diplomacy, and the arts in the Americas attended the Society's 38th Annual Spring Party held June 12 in New York City, at Cipriani Wall Street.
"As many of you know, the Spring Party is one of our most important annual fundraising events. This year, your generous contributions will go a long way toward supporting our mission and activities in the United States and abroad," said Americas Society and Council of the Americas (AS/COA) President and CEO Susan Segal. "As I think about our mission and values—the most important of which involves strengthening our hemispheric ties and deepening our friendships, cooperation, and shared prosperity—I truly believe that we can and will play a pivotal role."
"Our two honorees this evening are exemplary," said AS/COA's Chairman Andrés Gluski. "Both Stuart and Arminio have deep knowledge and experience in financial markets, but they also understand the political dimensions as well as the importance of inclusive growth. And each have made a true impact, whether it be in their company, their country, or the global scenario."
Americas Society Chairman Emeritus William R. Rhodes presented the Gold Medal to Fraga Neto, highlighting his illustrious career in the public and private sectors. "Tonight, we recognize the continued impact of Arminio's sound policymaking, entrepreneurial spirit, and deep personal values and moral integrity, which he has always put in the service of Brazil's and our hemisphere's development," said Rhodes.
"Over decades, the Americas Society and the Council of the Americas have greatly contributed towards the peaceful and steady development of the region, through exchanges of ideas,
experiences, and agendas," said Fraga Neto upon receiving the award. "It has also offered a platform of the highest level for regional leaders to express their views and policy proposals on a wide range of topics that include the economy, politics, education, culture, and much more. As we meet here today to celebrate, we must not forget that some of the key countries in Latin America are facing great challenges. This is exactly the time when AS/COA can add the most value."
Fraga Neto is Founding Partner of Gávea Investimentos, a Brazilian independent investment management firm he started in 2003. From 2009 to 2013, Fraga Neto served as the Chairman of BM&F Bovespa SA. From 1999 to 2002, he was President of the Central Bank of Brazil, where he also served as Director of International Affairs from 1991 to 1992. From 1993 to 1998, he was Managing Director of Soros Fund Management in New York. Earlier in his career, he held positions with Salomon Brothers and Garantia Investment Bank. He is a member of the Group of Thirty and the Council on Foreign Relations, among others. He is currently a trustee of Princeton University, and serves on the boards of several not-for-profit organizations. Fraga Neto has taught at the Wharton School of the University of Pennsylvania, Catholic University of Rio de Janeiro, the Graduate School of Economics at Getúlio Vargas Foundation, and the School of International Affairs at Columbia University.
Gerardo Mato, Chairman of Global Banking & Markets, HSBC - Americas while presenting the Gold Medal to Stuart T. Gulliver, said: "I am delighted to present Stuart with this award. His leadership and commitment to the region has been instrumental in the role that HSBC has played—and continues to play—in connecting the businesses, governments, and investors of the Americas with the fastest-growing countries around the world."
"I am pleased to receive this award, both for myself and on behalf of HSBC. HSBC has been part of the economic story of the Americas for more than 150 years, and I am immensely proud of its role in connecting regional trade and investment during my time as chief executive," said Gulliver in remarks made after receiving the Gold Medal. "The Americas Society does important work to build understanding across North and South America, and to preserve the financial and economic links on which its businesses rely. This purpose is more relevant than ever. I am grateful for all the Society does, and honored that it should recognize me in this way."
Stuart T. Gulliver was Group Chief Executive of HSBC Holdings plc from January 2011 to February 2018.  He was also Chairman of the Hongkong and Shanghai Banking Corporation Limited for the same period. His leadership as Chief Executive of Global Banking and Markets at HSBC was key to the institution's stability during the 2008 global financial crisis.  Gulliver joined HSBC in 1980 and held a number of key roles in the Group's operations worldwide, working in London, Hong Kong, Tokyo, Kuala Lumpur, and the United Arab Emirates. He is a member of the International Advisory Council of the China Banking Regulatory Commission of the People's Republic of China. Gulliver is recognized for his work in promoting the topic of sustainable finance globally and for strengthening the HSBC presence in the Americas. In November 2017, he was awarded with the Mexican Order of the Aztec Eagle for his contribution to the domestic and international financial system.
Previous recipients of the Gold Medal, first presented in 1977, include David Rockefeller, Miguel Alemán Velasco, César Alierta, Alejandro P. Bulgheroni, Fernando Henrique Cardoso, Gustavo A. Cisneros, Carlos Cruz-Diez, Oscar de la Renta, Antonio del Valle, Jamie Dimon, Laurence D. Fink, Carlos Fuentes, Bruce Flatt, Enrique Iglesias, Muhtar Kent, Andrónico Luksic, Thomas F. McLarty, III, Manuel Medina-Mora, Luis Alberto Moreno, Stanley A. Motta, Peter Munk, Patricia Phelps de Cisneros, William R. Rhodes, Luis Carlos Sarmiento Angulo, Roberto Egydio Setubal, Mario Vargas Llosa, Lorenzo H. Zambrano, and Ernesto Zedill
Press Inquiries: mediarelations@as-coa.org | +1-212-277-8384 or +1-212-277-8333.
Americas Society (AS) is the premier forum dedicated to education, debate, and dialogue in the Americas. Its mission is to foster an understanding of the contemporary political, social, and economic issues confronting Latin America, the Caribbean, and Canada, and to increase public awareness and appreciation of the diverse cultural heritage of the Americas and the importance of the inter-American relationship.