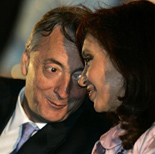 South American heads of state gathered in Buenos Aires Sunday to formally establish the Bank of the South, billed as an alternative to the International Monetary Fund (IMF) and the World Bank. The development bank's inauguration comes as the IMF announced it will cut 15 percent of its staff in efforts to tackle "the twin issues of the Fund's relevance and legitimacy."
The brainchild of Venezuelan President Hugo Chavez, the Bank of the South will begin operations with $7 billion in investment and seven member countries—Argentina, Brazil, Ecuador, Paraguay, Uruguay, Bolivia, and Venezuela. The bank has gotten off to a slow start, with the initial launch date postponed from June to December and with Chile and Peru opting not to participate.
Although Caracas will host the headquarters, the Buenos Aires launch is significant as it coincides with the last day in office for Argentine President Nestor Kirchner. In 2005 leader chose to pay off his country's debt to the IMF after Argentina defaulted on the loans in 2001, setting off a financial crisis. During her presidential campaign, Kirchner's wife Cristina--who will be inaugurated on Monday—capitalized on anti-IMF sentiment running through Argentina in a television spot.
Journalists worldwide have made comparisons between Cristina Kirchner and another former first lady and presidential aspirant, Hillary Clinton. But, as Slate's Daniel Politi pointed out well before October's election, Cristina's tenure in government runs longer than Hillary's. She was a prominent senator well before her husband rose to the limelight and has more than three decades' involvement in Argentine politics.
In spite of her years of experience, the popularity of her president's administration undoubtedly gave the senator a leg up in the presidential elections. Kirchner leaves office with strong approval ratings,  boosted by the country's economic recovery under his stewardship. Speaking in a televised interview with Todo Noticias in the final days of his presidency, Kirchner said he will not seek to influence his wife's policies and predicted her administration will prove better than his. 
Cristina has pledged to continue her husband's economic policies, despite growing fears of inflation.  Yet her most surprising cabinet choice was Argentine banker Martin Lousteau as economy minister, who former central bank president Javier Gonzalez Fraga describes as "a man committed to creating the conditions for sustained growth in the long term." 
The new president also inherits the problem of chilled relations with neighboring Uruguay in a dispute over a paper mill located on a river dividing the countries. With the mid-December Mercosur summit located in Montevideo coming shortly on the heels of her inauguration, the issue will likely serve as her first major foreign policy challenge.
Cristina Kirchner discussed the rebirth of the Argentina economy following the 2001 crisis during a September AS/COA event.