Argentina Update: Historic Presidential Runoff Expected after Tight Finish
The governing party's Daniel Scioli will face Buenos Aires Mayor Mauricio Macri in the first-ever presidential runoff vote.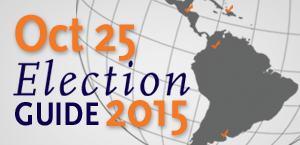 On October 25, Argentines headed to the polls to choose their next president, along with 154 congressional seats and governors in 11 of the country's 23 provinces. With a dead heat after a majority of the ballots counted, the South American country stands poised to hold a presidential runoff for the first time ever. The second round will take place on November 22.
Macri Forces an Unprecedented Runoff
With 97 percent of the votes counted at the time of this report, the top two contenders stand nearly tied. The Victory Front coalition's Daniel Scioli—the Buenos Aires province governor and a former vice president supported by President Cristina Fernández de Kirchner—holds 36.86 percent. Buenos Aires Mayor Mauricio Macri of the opposition Let's Change coalition stands in second by a tiny margin with 34.33 percent. The United for a New Alternative coalition's Sergio Massa is in third with 21.34 percent.
In order to avoid a runoff, the winning candidate needed more than 45 percent of the votes or at least 40 percent with a 10-point margin over his closest competitor. This will be the first time that the country holds a second-round presidential vote. 
Justice Minister Julio Alak said Sunday evening that turnout stood at around 79 percent, a similar level to the 2011 election. More than 32 million Argentines were eligible to cast their ballots.
Ahead of the vote, Scioli had led the polls. According to this month's Ipsos-Mora y Araujo survey, Scioli was nearly 14 points ahead of Macri, with Massa at around 23 percent. 
Even before the government released results on Sunday night, two candidates celebrated, while another conceded. Scioli declared victory at his campaign headquarters without mentioning a runoff. 
Muchas gracias a todos por esta nueva victoria*

— Daniel Scioli (@danielscioli) October 26, 2015
Macri said there would be a runoff, and called on voters to choose him in a second round.
Rumbo al 22 de noviembre los invito a que cada uno asuma el protagonismo de comprometerse y participar. #HayBalotaje pic.twitter.com/bpCS3ygJXT

— Mauricio Macri (@mauriciomacri) October 26, 2015
Meanwhile, Massa conceded his third-place finish.
Highlights in Other Races
With 97 percent of votes counted in the Buenos Aires province gubernatorial race, Let's Change Buenos Aires Deputy Mayor María Eugenia Vidal leads by around four points over Victory Front presidential cabinet chief Aníbal Fernández. Also in the Buenos Aires province, the Victory Front coalition leads Let's Change lower-house congressional votes by a little over three points.
Why This Is Argentina's First Runoff
Argentina experienced numerous changes to its electoral system, shifting between an electoral college and two-round votes. In 1972, military ruler Alejandro Agustín Lanusse changed the Constitution to allow for runoffs. The following year, presidential candidates were set to hold a second round, but one conceded instead. After the return of democracy in 1983, the country reverted to the electoral college system it had used in the late 1800s and first half of the 19th century. In 1994, another constitutional reform brought back the presidential runoff with the 45-40-10 rule. The 2003 election marked the only other time since then that a second round was needed, but one of the candidates conceded before the runoff could take place.