Americas Society
Council of the Americas
Uniting opinion leaders to exchange ideas and create solutions to the challenges of the Americas today
Americas Society Awards Ambassador Thomas A. Shannon, Jr. with the Gold Medal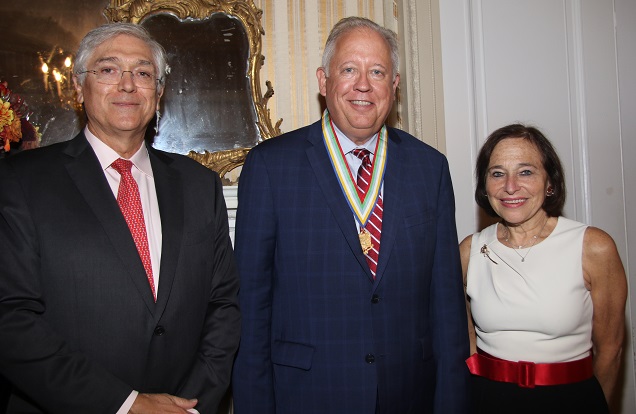 New York, October 11, 2018—Americas Society awarded Ambassador Thomas A. Shannon, Jr. its Gold Medal, the organization's highest honor, for his distinguished career as a diplomat and policymaker and for fostering collaboration and understanding across the Americas and beyond. AS/COA President and CEO Susan Segal presented Ambassador Shannon with the Gold Medal at an intimate dinner that took place October 10 at the Society's historic headquarters in New York City. The award ceremony assembled guests from the business, political, and diplomatic worlds who recognized Ambassador Shannon's remarkable career and his contributions to regional cooperation.
"We are very pleased to honor Ambassador Thomas Shannon for his leadership and more than three decades of commitment to the Americas," said Segal. "He is an inspiration to many generations of diplomats and a steadfast friend of the hemisphere."
"He saw, as few others did, the potential of Latin American countries to be true partners with the United States after the end of the Cold War," said AS/COA Chairman Andrés Gluski. "Tom's deep belief in diplomacy and engagement is a tribute to him and a reason why so many people respect him."
"I am deeply honored and frankly humbled by the generosity of the Americas Society and the Council of the Americas," said Ambassador Shannon. "As we try to understand what lies in front of the United States and the hemisphere, I remain convinced that, despite the new challenges we face, we do have this incredible reservoir of good will and understanding."
Ambassador Shannon spent nearly 35 years in the U.S. Foreign Service, serving under six presidents and 11 secretaries of state. In 2016, he was appointed undersecretary of state for Political Affairs, the third-highest ranking position at the State Department. Earlier in his career, he served as U.S. ambassador to Brazil (2010–2013), assistant secretary of state for Western Hemisphere Affairs (2005–2009), special assistant to the President and senior director for Western Hemisphere Affairs at the National Security Council (2003–2005), deputy assistant secretary of state for Western Hemisphere Affairs (2002–2003), and director of Andean Affairs (2001–2002), and U.S. deputy permanent representative to the Organization of American States (2000–2001). His career in the foreign service also took him to Gabon, Guatemala, São Tomé and Príncipe, South Africa, and Venezuela.
Previous recipients of the Gold Medal, first presented in 1977, include David Rockefeller, Fernando Henrique Cardoso, Carlos Cruz-Diez, Carlos Fuentes, Enrique Iglesias, Thomas F. McLarty, III, Luis Alberto Moreno, William R. Rhodes, Mario Vargas Llosa, and Ernesto Zedillo.
Press Inquiries: mediarelations@as-coa.org | 212-277-8333 | 212-277-8384