2014 Election Blog: Immigration Policy in the U.S. Gubernatorial Races
Find out how 10 newly elected state leaders approach immigration reform and border policies.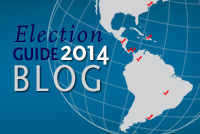 After Republicans won the majority of the U.S. House of Representatives and the Senate on November 4, the future of federal immigration reform remains unclear. But state governments across the country have been taking action on immigration, including a number of governors who won reelection. Some of these leaders have restricted Secure Communities, a federal deportation program that works with state and local jurisdictions to check the immigration status of those who have been arrested. Others have offered relief to undocumented youth, known as Dreamers. Find out how governors stand on the issue in a number of states where immigration is a key point of debate.
Arizona: New GOP Governor-elect Doug Ducey pledged to increase resources to prevent undocumented immigration and crime along the Arizona-Mexico border. He wants to put more fencing and satellites on the border, as well as more troops. Ducey also aims to boost funds for prosecution of undocumented violent criminals, looking to focus the Department of Public Safety's budget to focus on violent criminals, drug cartels, and human traffickers. He plans to maintain Governor Jan Brewer's policy of denying driver's licenses to undocumented youth. Finally, he wants to seek reimbursement of border security costs from the federal government.
California: Reelected Democrat Governor Jerry Brown made numerous moves on immigration reform during his last term. He signed the state's DREAM Act in 2011 to provide financial aid at public colleges for undocumented immigrants. On September 30 this year, Brown signed three pieces of immigration legislation. One law created a loan program to provide over $9 million to public California universities to give loans to undocumented students. Another will permit undocumented immigrants to apply for state professional licenses to work in a variety of fields, from medical to accounting. The final bill earmarks $3 million to non-profits to provide legal representation for minors in deportation cases following the child migrant crisis. Last year, Brown signed a bill to allow undocumented immigrants to get driver's licenses.
Florida: In June, now-reelected GOP Governor Rick Scott signed a bill that gives in-state tuition to undocumented immigrants. The move was a shift from his previous stance on immigration; four years ago, he said he would support an Arizona-style immigration law in Florida and legislation requiring employers to use e-Verify, though neither came to pass. In June, he vetoed a bill that would have given some undocumented youth temporary driver's licenses—even after the measure was approved near-unanimously in the Republican-controlled legislature. But during the gubernatorial debate in October, Scott said he supported Senator Marco Rubio's efforts to push for comprehensive immigration reform at a national level. Also this year, Scott tapped Carlos Lopez-Cantera as the first Latino lieutenant governor in Florida history.
Georgia: Reelected Republican Governor Nathan Deal signed the state's controversial 2011 immigration law, which criminalizes knowingly transporting and harboring undocumented immigrants, as well as using fake ID to get a job. It also permitted police officers to ask about immigration status during certain investigations. (Federal courts later struck down key parts of the law.) Previously, during his tenure as a federal congressman, Deal supported a host of bills aimed at limiting immigration, including building the border wall, limiting visas for skilled workers, and ending birthright citizenship. During the child migrant crisis this summer, Deal initially opposed over 1,000 children being sent to his state, but later agreed to uniting children with their families.
Illinois: GOP Governor-elect Bruce Rauner unseated Governor Pat Quinn on November 4. Rauner supports immigration reform and a path to citizenship for the undocumented. He also said he supports the DREAM Act and wants to make Illinois a "welcoming state" for immigrants. He backs securing the country's borders and preventing undocumented immigration, and wants to increase legal immigration. Meanwhile, Quinn launched an Office for New Americans early in his term to provide services to immigrants.
Maryland: Republican Governor-elect Larry Hogan said he would repeal legislation allowing undocumented immigrants to receive driver's licenses. He also believes the federal government should pass comprehensive immigration reform. During the child migrant crisis, Hogan said he opposed Maryland taking in children, and that they should be returned to their home countries. Hogan won an upset victory against Lieutenant Governor Anthony Brown, who supports measures to benefit the undocumented. Current Governor Martin O'Malley is an immigration reform proponent, passing legislation to give in-state tuition and drivers' licenses to the undocumented, as well as limiting detentions under Secure Communities.
Massachusetts: New Republican Governor-elect Charles Baker changed his stance on immigration since he ran for governor in 2010. Previously, he opposed in-state tuition and driver's licenses for the undocumented. But during his 2014 campaign, he said he'd continue giving in-state tuition to undocumented immigrants—a measure inked by Governor Deval Patrick. On his campaign website, he says he supports the Secure Communities program, but he told the media he'd offer flexibility to cities to opt out of the program. In addition, he opposes driver's licenses for the undocumented. During the child migrant crisis, Baker said states should be a part of the humanitarian relief effort, but pointed to a failure to pass national immigration reform as the problem.
New Mexico: The country's only Latina governor, Republican Susana Martinez, won reelection in this border state. Martinez has tried numerous times to push the state legislature to repeal a law giving drivers' licenses to the undocumented, but has not yet succeeded. However, she did back a proposal in 2013 that would have given temporary licenses to Dreamers. In a 2011 executive order, she directed the state's police to ask about immigration status, in a nod to Arizona's legislation and a reversal of the state's "sanctuary status." During the child migrant crisis, Martinez did not send National Guard troops to the border, and visited a detention center where children were being held. Martinez supports comprehensive immigration reform at the national level.
New York: On the campaign trail, now-reelected Democrat Governor Andrew Cuomo advocated for state tuition assistance for undocumented immigrants. He said he would support a bill to this effect, the DREAM Act, as long as New Yorkers elect a legislature to pass it. In March, this bill failed to pass by two votes. In 2013, Cuomo launched the New York State Office for New Americans to provide services such as English classes, legal assistance, and small business support. Secretary of State Cesar Perales told Gotham Gazette that the program is likely to expand during Cuomo's second term.
Texas: New GOP Governor-elect Greg Abbott, who previously served as attorney general in his state, favors immigration controls. On the campaign trail, Abbott vowed to double border patrol expenses, planning to spend $300 million and put an extra 500 troopers on the border. He also wants the federal government to pay for the National Guard troops on the border, sent by Governor Rick Perry during the summer's child migrant crisis. He also aims to target human smugglers and cartels operating on the Texas-Mexico border. Also, Abbott said he wouldn't veto a repeal of the state's 2001 DREAM Act.