Time for Australia to Pay Attention to Mercosur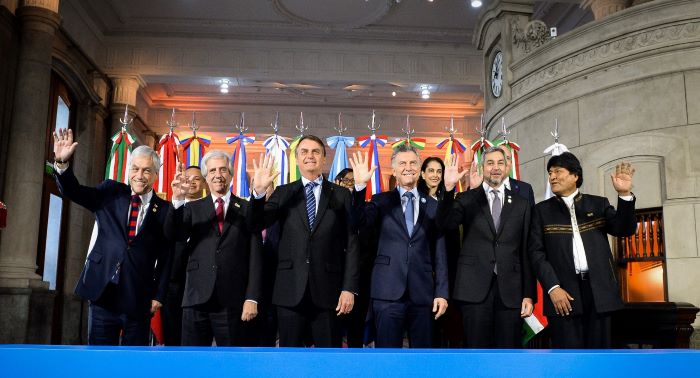 With the ongoing trade war between the United States and China showing no signs of abatement, it's easy to ignore the brighter spots on the horizon. Not least the historic agreement reached between the European Union and the four founding members of the Common Market of the South (Mercosur) – Argentina, Brazil, Paraguay and Uruguay – after twenty years of intermittent negotiations. Australia should capitalise on South America's increased openness to trade by consolidating its close political, economic and cultural ties with the region.
If there is one thing that rising global tensions between the United States and China has brought into clearer focus, it's the need for regional blocs to continue their integration based on the transformative force of international trade. In this regard the announcement of the political agreement between the EU-Mercosur for a Free Trade Agreement (FTA) is a piece of good news. If ratified, it will urge Mercosur countries to modernise their economies, internationalise their companies, and become more competitive as trade partners on the global stage.
Historically seen as a competitor to Australia in agricultural commodities and the mining sector, South America's shift to open markets is playing out against a backdrop of a growing middle class, increased manufacturing heft and services capabilities in the region. These developments have shifted the terms of trade between the blocs, and present fresh opportunities to develop a mutually beneficial relationship across key sectors such as energy, agribusiness, infrastructure, tourism, education, financial services and technology.
Efforts to strengthen Southern Hemispheric trade linkages fit well within the potential agreement between the Australia New Zealand Closer Economic Relations Trade Agreement (ANZCERTA) and Mercosur. Since 1996, senior leaders from member states have participated in talks to deepen trade and investment ties within the framework of the CER-Mercosur dialogue, the central mechanism for advancing Australia's trade and economic relationship with Mercosur. If the EU-Mercosur Agreement comes into force, it should pave the way for Mercosur's agreement with CER...