Americas Society
Council of the Americas
Uniting opinion leaders to exchange ideas and create solutions to the challenges of the Americas today
Mexico's Economic and Political Outlook 2017
Americas Society
/
Council of the Americas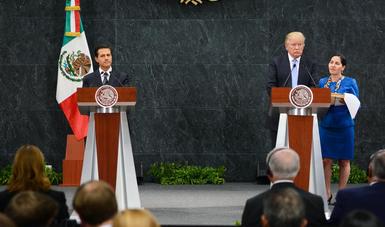 Follow the discussion on Twitter: #mxASCOA | @ASCOA
Americas Society/Council of the Americas will host a public panel with experts on Mexico to discuss the country's economic and political outlook.
2017 will be a crucial year for Mexico and President Enrique Peña Nieto as he confronts pressing challenges such as nationwide protests against rising gas prices, the depreciation of the peso, and handling the relationship with the new U.S. administration. The first encounter between the two governments did not go as planned but, while Peña Nieto's cancelled his Washington visit, dialogue remains open. This crossroads presents an opportunity for the Peña Nieto government, as stakeholders across Mexico unite behind his response to U.S. President Donald Trump. Will this be the spark to reignite Peña Nieto's presidency in the last two years of his term? Experts will discuss Mexico's economic challenges and opportunities, NAFTA renegotiations, and the political implications for the Mexico's 2018 presidential election.
Speakers:
Jorge Mariscal, Chief Investment Officer, Emerging Markets, UBS Wealth Management
Gerardo Rodríguez Regordosa, Managing Director, Emerging Markets Strategy, BlackRock, Inc. @g_rodriguez_r
Jorge Suárez-Vélez,

Economist and Columnist, El Financiero @jorgesuarezv
Cardiff Garcia, U.S. Editor FT Alphaville, Financial Times (moderator) @CardiffGarcia
Registration: This event is complimentary for all AS, COA and YPA members. $15.00 for all non-members.
Prior registration is required.
Not yet a member? Become an Americas Society member today for complimentary access to this event.
Event Information: Ernesto Aguilar | eaguilar@as-coa.org | 1-212-277-8393
Sponsorship Opportunities: Ana Calderon | acalderon@as-coa.org | 212-277-8358
AS Individual Membership Information: Felipe Marin | fmarin@as-coa.org | 212-277-8342
COA Corporate Membership Info: Natalia Williamson | nwilliamson@as-coa.org | 212-277-8374
Note: To view a list of COA corporate members, please click here.
Press Inquiries: mediarelations@as-coa.org
Cancellation: Please contact Juan Serrano-Badrena at jserrano@counciloftheamericas.org before 3:00 p.m. on Tuesday, February 14.
February 15, 2017
From U.S. President Donald Trump's anti-Mexican rhetoric to corruption, panelists covered challenges for Mexico as the country prepares for the 2018 presidential elections....