Americas Society
Council of the Americas
Uniting opinion leaders to exchange ideas and create solutions to the challenges of the Americas today
Latin America's Top Five Journalists, According to Americas Quarterly Magazine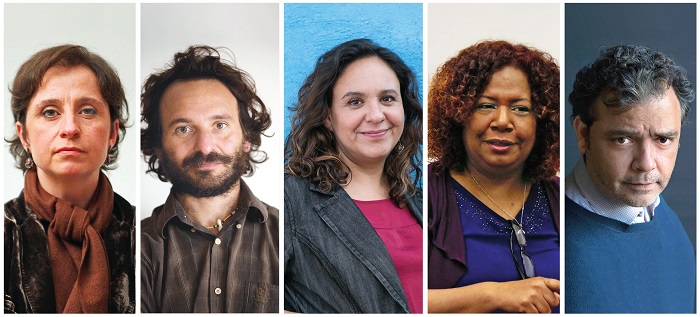 New York, July 31, 2017—Across Latin America, important stories are being told thanks to brave journalists who continue to fight for truthful storytelling in the face of difficult and hostile environments. Americas Quarterly (AQ), the leading publication on politics, business, and culture in the region, honors five masters of the craft—with a special emphasis on Mexico—who are leading the crusade for honest reporting amid increasing dangers and censorship.
Bringing compassion to their reporting, increasing access to the news, and committing to democracy despite the risks, "Latin America's Top Five Journalists" are:
Read the complete profiles here (también en español).
Access the full AQ issue here.
Press inquiries: mediarelations@as-coa.org | 1-212-277-8384 | 1-212-277-8333.
Americas Quarterly (AQ) is the leading publication dedicated to politics, business, and culture in the Americas. An award-winning magazine and website, AQ has a proud tradition of portraying the real Latin America, while working to promote its core values: democracy, inclusive economic growth, and equal rights for all of the hemisphere's nearly 1 billion citizens. Borrowing elements from The Economist, Foreign Affairs, and National Geographic – but with a focus on Latin America – AQ is dedicated to covering the region in all its diversity and promise. AQ's elite, agenda-setting readership includes CEOs, senior government officials, and thought leaders, as well as a general-interest audience passionate about the Americas. Launched in 2007 and based in New York City, AQ is an independent publication of Americas Society/Council of the Americas, which for more than 50 years have been dedicated to dialogue in our hemisphere.