Americas Society
Council of the Americas
Uniting opinion leaders to exchange ideas and create solutions to the challenges of the Americas today
La revista Americas Quarterly anuncia los cincos mejores periodistas de Latinoamérica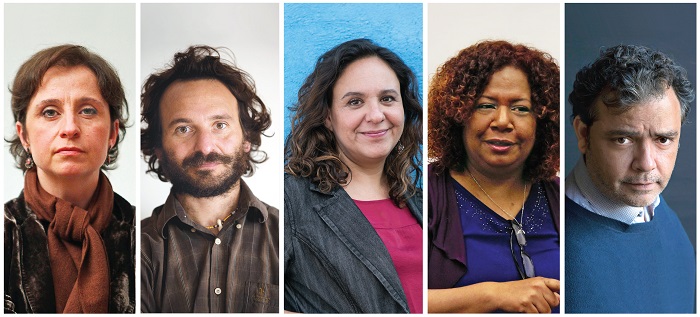 Nueva York, 31 de julio de 2017—Las historias importantes de América Latina salen a la luz gracias a la valentía de periodistas que ejercen su oficio en entornos a menudo hostiles. Americas Quarterly (AQ), la revista especializada en política, negocios y cultura en el hemisferio, honra a cinco maestros del periodismo -con un énfasis especial en México- quienes lideran una cruzada en defensa de la libertad de información en medio de los crecientes peligros y la censura.
"Los Cinco Mejores Periodistas de América Latina" de acuerdo con Americas Quarterly son:
Lea los perfiles completos aquí.
Lea aquí el último ejemplar de la revista Americas Quarterly.
Consultas de prensa: mediarelations@as-coa.org | 1-212-277-8384 | 1-212-277-8333.
Americas Quarterly (AQ) es la publicación más destacada dedicada a la política, los negocios y la cultura en las Américas. La premiada revista y su sitio web, tienen como misión presentar la verdadera América Latina al mismo tiempo que promover sus valores fundamentales: democracia, crecimiento económico inclusivo e igualdad de derechos para los cerca de mil millones de habitantes del hemisferio. Tomando elementos del The Economist, Foreign Affairs y National Geographic -pero enfocándose en América Latina- AQ está dedicada a cubrir la región en toda su diversidad y potencial. Quienes leen AQ son los tomadores de decisión en la región, entre ellos CEOs, altos funcionarios de gobierno, formuladores de política pública y líderes de opinión, así como una audiencia interesada por lo que sucede en las Américas. Creada en 2007 y editada en la ciudad de Nueva York, AQ es una publicación independiente de Americas Society/Council of the Americas, entidades que por más de 50 años se han dedicado al diálogo en nuestro hemisferio.