Americas Society
Council of the Americas
Uniting opinion leaders to exchange ideas and create solutions to the challenges of the Americas today
Visual Arts at Americas Society
Americas Society Gallery does not accept unsolicited submissions and materials. Our staff is not authorized to receive or review artist or exhibition proposals.
The Visual Arts program boasts the longest-standing private space in the U.S. dedicated to exhibiting and promoting art from Latin America, the Caribbean, and Canada; it has achieved a unique and renowned leadership position in the field, producing both historical and contemporary exhibitions. The Visual Arts program presents three exhibitions annually, each accompanied by a series of public and educational programs featuring outstanding artists, curators, critics and scholars. The Visual Arts program produces exhibition catalogues as well as scholarly publications, including the seminal work, A Principality of Its Own: 40 Years of Visual Arts at the Americas Society.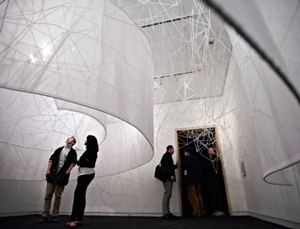 The Society's Visual Arts department, dedicated to fostering a better understanding of art in the American regions beyond U.S. borders from the pre-Columbian era to the present day, produces gallery exhibitions, illustrated catalogs, and a variety of public programs. The quality of our exhibitions attests to the diversity and heritage of the Americas, and upholds the mandate of the Americas Society to foster a better understanding of the art made in these regions from the pre-Columbian era to the present day.
The visual arts program boasts the longest-standing private space in the United States dedicated to exhibiting and promoting art from Latin America, the Caribbean, and Canada. Americas Society is recognized for its catalyzing role in establishing Latin American art markets in the United States and helping to expand the notion of modernity in the western hemisphere. The success of the department is rooted in its role as not merely a consecratory venue, but also as a platform for new artistic visions and achievements from throughout the Americas.
UPCOMING EVENTS
PAST EVENTS &nbsp&nbsp
The Visual Arts program has demonstrated a strong commitment to education and public engagement in its 50 years of history. Visual Arts events are free and welcome all audiences, including families, students, teachers, and scholars. Public programs and bilingual tours stimulate an interest in learning about art of the Americas among diverse communities.
Visual Arts offers regular private group tours of the exhibitions. Tours cater to all levels of learning, including K-12 and university classes, as well as adult groups, and are available in both English and Spanish.
Americas Society has built a partnership with CUNY, Hunter College. Hunter's Cultural Ambassador works with Visual Arts to welcome students to exhibitions and public programs, as well as special events organized for the students.
In addition to a commitment to foster education and encourage higher learning, the Visual Arts department provides internships for future arts professionals.
To schedule a tour for your class or group, please contact Exhibitions and Public Programs Coordinator Diana Flatto: dflatto@as-coa.org
The Arts of the Americas Circle, chaired by Erica Roberts and Boris Hirmas, is a dynamic group of collectors and arts lovers, involved in historical, modern, and contemporary art and culture from the region. All funds provide crucial support for our Visual Arts exhibitions, publications, and public programs at Americas Society throughout the year. To support our Visual Arts program lead by Gabriela Rangel, the Americas Society requests Arts of the Americas Circle patrons to make an annual contribution to provide critical financial support for the organization.
As a patron of the Arts of the Americas Circle, you will be invited to join a selection committee responsible for selecting two to three exhibitions proposed by the Visual Arts Department each year. In addition, patrons will also receive invitations for special events exclusively organized for the Circle, including an intimate party held annually, visits to art fairs, galleries and artist's studios, special book editions and conversations with artists, curators and collectors.
Americas Society gratefully acknowledges the support from the Arts of the Americas Circle members: Estrellita Brodsky; Galeria Almeida e Dale; Kaeli Deane, Phillips; Diana Fane; Boris Hirmas; Isabella Hutchinson; Carolina Jannicelli; Roberto Redondo and Carlos Manso; Erica Roberts; Sharon Schultz; Herman Sifontes; Axel Stein, Sotheby's; Edward J. Sullivan; and Juan Yarur Torres.
For more information about the Arts of the Americas Circle, please contact Diana Flatto: dflatto@as-coa.org
The Visual Arts department offers a variety of beautifully illustrated catalogues that chronicle past Americas Society exhibitions.