Witnesses of Time: Photographs by Flor Garduño
January 21, 1993 to March 07, 1993
The approximately 100 images contained in the exhibit, curated by Laura González, conveyed a poetic and intimate vision of surviving indigenous communities in the Americas, particularly in rural areas of Mexico, Guatemala, Peru, Bolivia, and Ecuador. In these photographs, taken from the mid 1980s to the early 1990s, Garduño expressed the richness, vitality, and spirituality of peoples who resisted the assimilation of Western values and ways of life.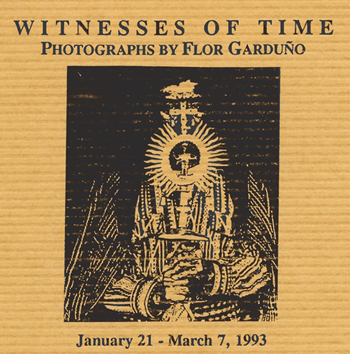 Since the mid-1980s, Flor Garduño dinstinguished herself as a leading photographer of her generation in her native country, Mexico. She received international recognition as the heir to the great tradition of Mexican photography.
Born in 1957, she studied at the Academia San Carlos in Mexico City from 1976 to 1978 and for part of that period, privately with Kati Horna, the Hungarian Surrealist photographer who settled in Mexico. Between 1978 and 1980, she worked as a printer for the master photographer Manuel Álvarez Bravo, who decisively influenced her artistic direction.
Through her portraits, scenes of rituals, landscapes, and still lifes, Garduño illustrated how her subjects transcended their marginal day-to-day realities by maintaining a remarkably whole world view in which no clear boundaries existed between the sacred and the profane.
This exhibition was organized by the Center for Creative Photography, Tucson, Arizona and Eureka y Eureka, Mexico City.
The exhibition was accompanied by a large-format book, published by Thames and Hudson, New York.
Americas Society acknowledges the generous support of the Mex-Am Cultural Foundation, Inc. Mr. And Mrs. Charles F. Barber, and Mrs. Yolanda de Garza Lagüera, Monterrey.