Music of the Americas: En Casa and Recuerdos, May 25–29
Americas Society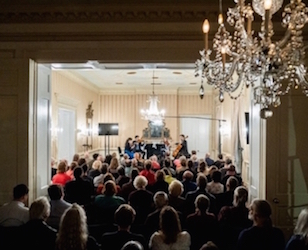 Music of the Americas online video series En Casa  (At Home) will take a short break from Tuesday to Friday this week so that we may focus on our Recuerdos (Memories) series which features releases of memorable past performances at the Americas Society, some for the first time. On Monday, please enjoy the Bach video sent to us by Sami Merdinian.
Follow Music of the Americas on  Instagram,  YouTube,  Facebook, and Twitter  to watch and receive notifications of all the performances. We will also be publishing weekly calendars here on our website, including all the videos, so you can catch up on any performances you might have missed.
 
Monday, May 25, 10 a.m.
En Casa: Sami Merdinian
Facebook: @sami.merdinian
Argentinean, New York-based violinist Sami Merdinian sends us his version of Bach's Partita in D Minor.
En Casa: Sami Merdinian-Violin Partita No.2 in D Minor, Sarabande (Bach)
---
Tuesday–Friday, May 26–29, 10 a.m.
Recuerdos: Morning Memories
From May 26 to May 29 we will be digging through our video archives and releasing a few morning memories to share with all of you each morning at 10 a.m.
In the meantime, please enjoy all of our videos from both the En Casa and Recuerdos series.
---
Tuesday, May 26, 10 a.m.
Recuerdos: Aurelio Martínez
Facebook: @AurelioMusic
Years ago as a preview of his concert at Symphony Space to launch his debut album Garifuna Soul, Honduran singer Aurelio Martínez gave a lecture on Garifuna music and culture, illustrated with several traditional songs. Ángel Aparicio, Onán Castillo, and Rolando Sosa joined him on percussion. This is their version of "Málate Isien" (Worthless Love), one of the most popular traditional Garifuna songs.
Recuerdos: Aurelio Martínez - "Málate Isien" (traditional)
Wednesday, May 27, 10 a.m.
Recuerdos: Ariel López Saldívar
Facebook: @Ariel-Lopez-Saldivar
For today's Recuerdos, we went as far back as our archives go, to 2001. In this video, Argentinean guitarist Ariel López Saldívar performs his version of Gerardo Gandini's "La melancholia". Gandini was one of the leading Latin American composers of the end of the 20th century, and produced fleeting, erudite, and imaginative music. Towards the end of his life, he found a new passion for tango after playing piano in Astor Piazzolla's last sextet in the late 1980s, and even won a Latin Grammy for his irreverent Postangos in 2004. "La melancholia" is his personal take on his city's quintessential music.
Recuerdos: Ariel López Saldívar -"La melancholia"(Gandini)
Thursday, May 28, 10 a.m.
Recuerdos: Bridget Kibbey
Facebook: @Bridget Kibbey
We continue to highlight the music of Gerardo Gandini. Today we feature a harp solo, "Hani ramaprah", performed by Bridget Kibbey in 2012.
Recuerdos: Bridget Kibbey - "Hani ramaprah" (Gandini)
---
Thursday, May 28, 6 p.m.
Panel: Festivals and Biennials in Times of COVID-19
Four professionals from different countries share their experience and expertise on events, limitations, and audience engagement.
To watch the discussion, please go to this page on the day of the event. No registration is required to watch.
Speakers:
Mariana Aymerich, General Director, Festival Cervantino, Guanajuato @aymerichmariana @cervantino
Naomi Campbell, Artistic Director, Luminato Festival, Toronto @Luminato
Andrea Giunta, Chief Curator of Mercosur Biennial 12, Porto Alegre
Mariana Pestana, Curator, Fifth Istanbul Design Biennial @marianapestana_ @designbiennial
Aimé Iglesias Lukin, Chief Curator and Director of Visual Arts, Americas Society @Visual_ArtsAS (moderator)
Sebastián Zubieta, Music Director, Americas Society @MusicAmericas (moderator)