El Salvador and Costa Rica Hold Elections Sunday—What's at Stake?
Wednesday, January 29, 2014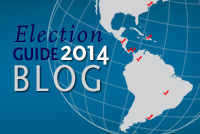 It used to be that elections in Central America occupied Washington for months at a time, capturing the attention of both ends of Pennsylvania Avenue, and all sides of the political spectrum. On Sunday, Washington will indeed be anxious to receive the results—of the Super Bowl, that is.
Attention is focused elsewhere. But that doesn't mean elections in El Salvador and Costa Rica are inconsequential. In fact, it's a commentary on how far the region has advanced, as well as how Washington has evolved, that the ideological differences of the respective candidates, which certainly exist, are not determinative. Rather, voters are attempting to discern which candidates might offer the best hope for improving their lives. Whomever they select, as Congressman Elliott Engel told the Council of the Americas in Washington recently, Washington will respect the results.
What are the primary issues?
Time and again, voters have expressed concerns about personal security and crime. They are also concerned about stagnating economies and slow recovery from the global economic crisis that is now over five years old. Both El Salvador and Costa Rica have candidates who promise job creation, better economic conditions, improved education, and a reduction in criminal activities. The question for voters on Sunday will be which of the candidates do they believe has the best chance of successfully addressing these difficult issues fairly, openly, and in a pragmatic, action-oriented way.
Recent elections in Honduras and upcoming elections in El Salvador, Costa Rica, and Panama (in May) mean that four of seven Central American countries face change. What are the prospects for Central America in the near term?
Central America has come a massive distance from the days of civil war, coups, extrajudicial killings, and human rights atrocities. The people of the region are to be congratulated. With significant U.S. assistance, the region is stable politically and generally democratic. Meanwhile the Dominican Republic-Central America-U.S. Free Trade Agreement (CAFTA-DR) trade agreement has linked the region economically to the United States, the Americas' top traditional market, and total two-way trade rising from $35 billion in 2005 to $54 billion last year.
Nonetheless, government institutions and civil society remain weak and susceptible to manipulation, particularly by leaders corrupted by a desire to remain in office indefinitely and by mafias fueled by the proceeds from illegal activities such as narcotics. Economic opportunities and job creation lag, a situation that may well be exacerbated if the Trans-Pacific Partnership (TPP) is concluded and provisions therein allow Vietnamese production to erode CAFTA-DR benefits. At the same time, the propensity for Central American leaders to see the region as seven nations rather than one area for economic purposes needlessly segments markets and reduces the attraction of Central America as both a marketplace and a production platform.
Having said that, the expansion of the Panama Canal, potential immigration reform in the United States, and intentional cooperation between North America and Central America on energy, security, and other matters are important positives for the region, which should not be overlooked.