Americas Society
Council of the Americas
Uniting opinion leaders to exchange ideas and create solutions to the challenges of the Americas today
Lydia Cabrera and Édouard Glissant: Trembling Thinking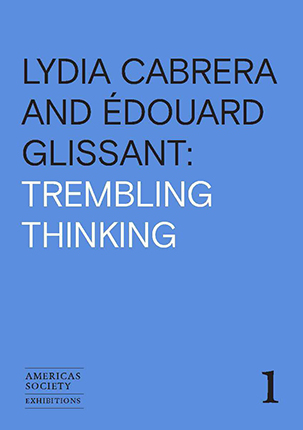 Edited by Karen Marta and Gabriela Rangel, Lydia Cabrera and Édouard Glissant: Trembling Thinking is a fully illustrated pocket book released to accompany the same-titled exhibition at the Americas Society (October 9, 2018–January 12, 2019).
The publication focuses on the ideas developed by the prominent Caribbean thinkers Lydia Cabrera (Havana, 1899–Miami, 1991) and Èdouard Glissant (Sainte-Marie, Martinique, 1928–Paris, 2011) and an archipelago of modern and contemporary artists whose works respond to their notions of identity. Artists include: Etel Adnan, Kader Attia, Tania Bruguera, Manthia Diawara, Mestre Didi, Melvin Edwards, Simone Fattal, Sylvie Glissant, Koo Jeong A, Wifredo Lam, Marc Latamie, Roberto Matta, Julie Mehretu, Philippe Parreno, Amelia Peláez, Asad Raza, Anri Sala, Antonio Seguí, Diamond Stingily, Elena Tejada-Herrera, Jack Whitten, and Pedro Zylbersztajn.
Table of Contents:
Foreword by Susan Segal and Dr. Julio Frenk
Trembling Thinking, or Ethnography of the Unknowable by Hans Ulrich Obrist, Gabriela Rangel, and Asad Raza
Exhibition Checklist by Diana Flatto
Archival Documents
Biographies and Selected Bibliographies
Credits
Acknowledgments
Learn more about the exhibition Lydia Cabrera and Édouard Glissant: Trembling Thinking at Americas Society.