Las diez personas que (algún día) reconstruirán a Venezuela en la nueva edición de Americas Quarterly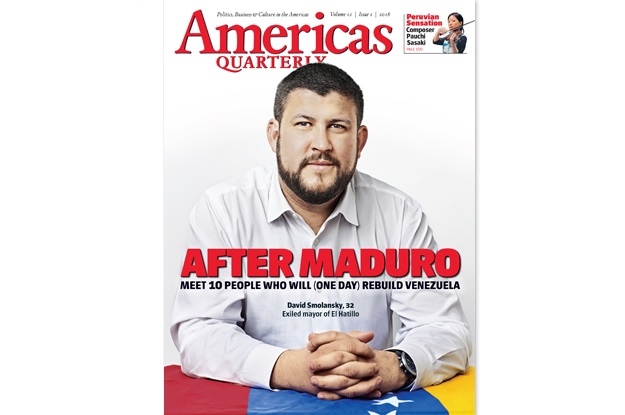 La crisis económica y la emergencia humanitaria en Venezuela están alcanzando proporciones críticas y un cambio parece improbable bajo el actual gobierno. En un reporte especial, la revista Americas Quarterly (AQ) presenta a 10 individuos que jugarán un papel clave en la reconstrucción del país una vez retorne la democracia, cuando sea que llegue ese día. En la antesala de las elecciones del 20 de mayo en Venezuela, el evento de lanzamiento de la nueva edicion de AQ en Nueva York analizará el panorama actual y futuro de la nación suramericana.
Nueva York, 23 de abril de 2018 — "Nadie sabe cuándo o cómo caerá la dictadura de Venezuela… pero ahora es el momento para que Venezuela y el mundo empiecen a planear lo que viene después", escribe el director de Americas Quarterly, Brian Winter, en la nueva edición de la revista. Mientras el hambre, la hiperinflación y la violencia continúan empeorando en la que fue una de las democracias más dinámicas de Latinoamérica, los planes para la reconstrucción empiezan a surgir y algunos protagonistas se empiezan a destacar.
En el reporte especial "Después de Maduro", Americas Quarterly destaca a 10 personas que la revista cree serán claves en la reconstrucción del país. Entre ellos están una experta en ayuda humanitaria, un famoso músico, una emprendedora, y David Smolansky, exalcalde de 32 años actualmente en el exilio, quien aparece en la portada de la revista. Ellos son ejemplo del talento humano que estará a disposición de Venezuela cuando la nación entre en la senda de la recuperación.
El reporte de Americas Quarterly incluye un plan de 180 días que recoge propuestas de expertos y académicos de universidades venezolanas, la Universidad de Harvard, el Fondo Monetario Internacional y otras instituciones, y crea un cronograma de lo que serían los primeros seis meses de un gobierno post-Maduro. La edición incluye además un breve perfil de "Quién es Quién" en la fragmentada oposición venezolana, y un esquema de las naciones en varios continentes que tienen mucho invertido en el futuro del país suramericano.
Esta edición identifica dónde está la diáspora venezolana en momentos en que los países vecinos tratan de reaccionar al creciente éxodo de ciudadanos de ese país. Y también incluye una crónica fotográfica que documenta la dramática manera como los venezolanos están enfrentando la hambruna, la enfermedad y la separación de sus seres queridos.
EVENTO EN VIVO:
El 14 de mayo, Asdrúbal Oliveros, Director y Socio de Ecoanalítica y David Smolansky, el exiliado ex-alcalde de El Hatillo (Venezuela), quienes fueron entrevistados para este reporte especial de AQ, se reúnen con la Directora para Latinoamérica de Medley Global Advisors, Luisa Palacios, para analizar en un panel público el panorama económico y político bajo Nicolás Maduro y posibles desarrollos futuros. Entre los temas del panel están la crisis humanitaria, la fragmentación de la oposición política y la crisis del sector petrolero venezolano.
Para obtener más información, registrarse para el evento de lanzamiento o para pedidos de entrevistas, contacte: mediarelations@as-coa.org | 1-212-277-8384 | 1-212-277-8333.
También en esta edición:
Tras un viaje de reportería a El Alto (Bolivia) la Gerente Editorial de Americas Quarterly,  Juliana Barbassa, explica por qué la ciudad que fue clave en el ascenso político de Evo Morales, ahora le niega su apoyo al mandatario cuando hace campaña para su cuarto período presidencial.
En una entrevista con Brian Winter, tres de los principales caza-corruptos de América Latina: Sérgio Moro, Claudio X. González y José Ugáz, reflexionan sobre qué sigue en el trabajo anti-corrupción en la región.
El periodista Mat Youkee cuenta la historia del Rey de Patagonia y Araucania -una nación de los Mapuches liderada por un aventurero del siglo 19- que le da nueva fuerza a los reclamos independentistas del grupo indígena.
AQ Destinations se detiene en Guadalajara (México): su importante festival de libros, su ambiente artístico y su imperdible renacimiento culinario.
La segunda edición de 2018 de Americas Quarterly estará disponible en su totalidad el 4 de mayo de 2018 en americasquarterly.org.
Americas Quarterly (AQ) es la publicación más destacada dedicada a la política, los negocios y la cultura en América. La premiada revista y su sitio web, tienen como misión presentar la verdadera América Latina y promover sus valores fundamentales: la democracia, el crecimiento económico inclusivo, y la igualdad de derechos para los cerca de mil millones de habitantes del hemisferio. Tomando elementos de The Economist, Foreign Affairs y National Geographic -pero enfocándose en América Latina- AQ está dedicada a cubrir la región en toda su diversidad y potencial. Quienes leen AQ son los tomadores de decisión en la región, entre ellos CEOs, altos funcionarios de gobierno, formuladores de política pública y líderes de opinión, así como una audiencia general interesada por lo que sucede en el continente. Creada en 2007 y editada en la ciudad de Nueva York, AQ es una publicación independiente de Americas Society/Council of the Americas, entidades que por más de 50 años se han dedicado al diálogo en nuestro hemisferio.