Feliciano Centurión: Abrigo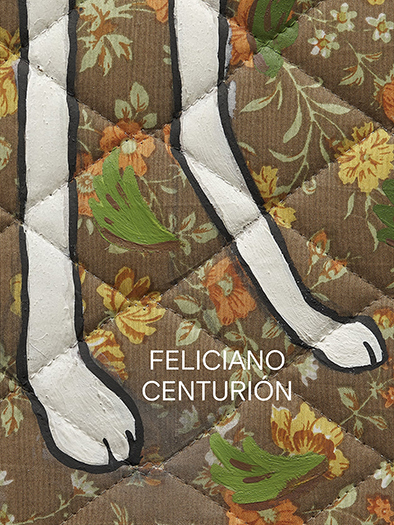 Co-edited by Aimé Iglesias Lukin and Karen Marta, the fully-illustrated hardcover volume includes texts by Ticio Escobar, Jimena Ferreiro, Jorge Gumier Maier, Aimé Iglesias Lukin, Francisco Lemus, and Gabriel Pérez-Barreiro and reproduces over 80 key works by the artist, accompanied by numerous details and archival material.
This is the first monograph ever published in any language on the life and work of Paraguayan artist Feliciano Centurión (1962-96). Through the embroidery and painting of vernacular objects such as blankets and aprons, Centurión rendered poetic readings of his youth in the tropics, his experiences of love in the metropolis and his reflections prior to his untimely death from AIDS-related illness. Since his death, Centurión's work has been largely overlooked, only recently receiving recognition. This book traces the short but vibrant career of a remarkable artist. With essays and reproductions, it attends to Centurión's stories of the self—his love life, his disease—but also stories of a cultural body searching for a new political expression in a changing world.
This monograph is possible thanks to the support of the Institute for Studies on Latin American Art (ISLAA).
Learn more about the exhibition Feliciano Centurión: Abrigo at Americas Society.
Table of contents:
Forward, Susan Segal President and CEO, AS/COA 

The Strongest Thread

, Ticio Escobar

Frazada: Protection Refuge, Community,

Aimé Iglesias Lukin 

A Question of Faith,

Gabriel Pérez Barreiro 

An introduction to Feliciano Centurión's últimas obras

, Jorge Gumier Maler 

The Rojas and the Nineties Scene

, Jimena Ferreiro 

Soul's Divine Light

, Francisco Lemus in conversation with Ana López, Marcelo Pombo, and Cristina Schiavi

Selected Works, exhibition history and Selected Bibliography
See all Americas Society publications here.
Purchase a copy of Feliciano Centurión: