Americas Society
Council of the Americas
Uniting opinion leaders to exchange ideas and create solutions to the challenges of the Americas today
Revista Americas Quarterly explora o que significa ter 18 anos na América Latina hoje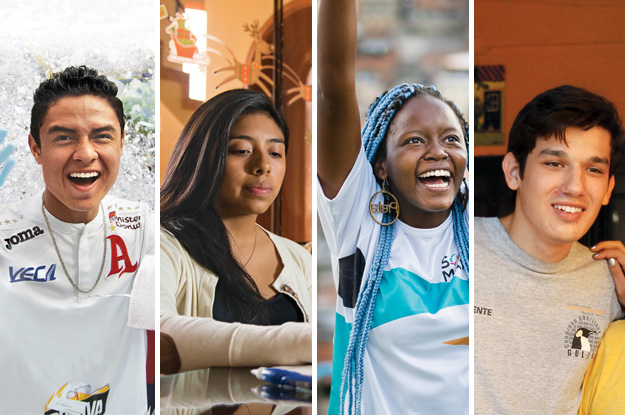 Nova York, 25 de julho de 2017—Os jovens latino-americanos de hoje são a primeira geração na história da região com mais propensão a crescer na classe média que na pobreza — e eles têm expectativas muito mais altas para o que esperam alcançar e o que desejam ser. Mas será que essas expectativas são realistas? Que tipo de obstáculos essa nova geração terá pela frente?
Para a terceira edição de 2017, a Americas Quarterly (AQ) acompanhou de perto a vida cotidiana de quatro jovens ao longo de oito semanas nas cidades de Guadalajara, Lima, Rio de Janeiro e São Salvador para conhecer suas ambições, seus sonhos e as dificuldades que enfrentam no dia a dia. Esses perfis notáveis expõem uma história mais ampla sobre uma região onde mudanças demográficas e econômicas abriram uma janela de transformação social, mas apontam para uma um potencial descasamento entre a realidade e as expectativas existentes que precisa ser abordado urgentemente. Veja os perfis aqui. 
"Crescer na América Latina hoje é acreditar que tudo é possível", diz Brian Winter, editor-chefe da AQ. "Mas existe um risco real de que essas grandes expectativas acabem em decepção. A taxa de desemprego entre os jovens está aumentando e alguns governos não estão conseguindo priorizar a educação, a qualificação profissional e outros passos necessários para garantir que os sonhos dessa geração se tornem realidade. Acreditamos ser importante que os formuladores de políticas e a sociedade em geral analisem essas questões, porque as perspectivas desses jovens latino-americanos andam de mãos dadas com as da América Latina."
Nesta edição da Americas Quarterly, "Grandes expectativas: O que significa ter 18 anos na América Latina hoje", Brandee McHale e Azita Berar Awad, da Citi Foundation, consideram ideias para combater o desemprego juvenil; Monica de Bolle, do Instituto Peterson para Economia Internacional, explora as razões pelas quais os governos gastam muito com os idosos e não o suficiente com os jovens; o ex-Presidente Fernando Henrique Cardoso, protagonista de dois grandes períodos de agitação no Brasil, reflete sobre o que os ativistas de hoje podem aprender com a história; Brian Winter viaja para o Chile para entender por que a população mais jovem não é mais ativa na política; e jovens ativistas, políticos, empresários, artistas e pessoas comuns dizem à AQ quais são os maiores desafios da sua geração.
EVENTO AO VIVO:
O presidente do Peru, Pedro Pablo Kuczynski, dará início ao evento de lançamento da nova edição da AQ na quarta-feira, 2 de agosto, em Lima, Peru. O discurso do presidente será seguido por painéis com especialistas e empresários do setor público e privado, que discutirão as oportunidades e os desafios diante dos jovens latino-americanos, bem como as ações que os governos e as comunidades podem tomar para aumentar as chances de sucesso dessa geração. Junte-se a nós pessoalmente ou via webcast ao vivo. Este evento será realizado com o apoio da Citi Foundation. Siga o evento em @AmerQuarterly | #JóvenesdeHoy
Para obter mais informações, registrar-se para o evento de lançamento ou solicitar entrevistas com os autores, entre em contato com mediarelations@as-coa.org | 1-212-277-8384 | 1-212-277-8333.
Outros artigos nesta edição:
Top 5 da AQ: Os jornalistas latino-americanos que são mestres em navegar por ambientes difíceis ou hostis.
Um ensaio que examina a Revolução Farroupilha, um massacre do século XIX no sul do Brasil que revela falhas no curso da história do país.
Nossa seção renovada sobre viagens, filmes e notícias de toda a região.
A terceira edição completa de 2017 da Americas Quarterly estará disponível on-line no dia 2 de agosto no site AmericasQuarterly.org
Americas Quarterly é uma publicação premiada dedicada à política, negócios e cultura nas Américas. Com elementos emprestados da The Economist, Foreign Affairs e National Geographic — mas com foco na América Latina — a AQ dedica-se a cobrir a região em toda a sua diversidade e promessa. A base de leitores da AQ inclui uma elite de formadores de opinião, líderes empresariais e altos funcionários de governos, bem como um público amplo apaixonado pelas Américas. Lançada em 2007 e com sede em Nova York, a AQ é uma publicação independente da Americas Society/Council of the Americas, que há mais de 50 anos vem promovendo o diálogo no nosso hemisfério.