Americas Society
Council of the Americas
Uniting opinion leaders to exchange ideas and create solutions to the challenges of the Americas today
The Latino Vote and the Debate over Same-Sex Marriage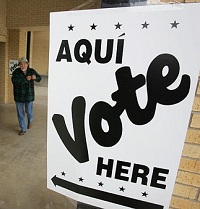 In the wake of voicing support for same-sex marriage in an ABC interview on May 9, U.S. President Barack Obama meets with gay and Latino donors in New York today in a bid to raise funds for his 2012 presidential campaign. While Obama's declaration in favor of gay marriage elicited vocal responses—both positive and negative—among Hispanics, recent surveys show that Latinos are more supportive of gay marriage than previously thought. Studies also demonstrate that Hispanic voters are less likely to vote based on social issues such as gay rights and are more likely to focus on economic issues.
Statistics show that Latinos may actually be slightly more supportive of LGBT rights than the U.S. population as a whole. A Pew Hispanic Research report from April 2012 found that 59 percent of Hispanics believe homosexuality should be "accepted by society," one percent higher than the U.S. general population. Another report released last month by Social Science Research Solutions (SSRS) showed that 54 percent of Latinos support gay marriage, again one point higher than the overall American population. Meanwhile, a January Latino Decisions poll indicated that a mere 3 percent of Hispanic voters counted social issues like gay marriage as top concerns in the 2012 election.
Among Latinos, opposition to LGBT rights tends to stem from the religious right and born-again Christians, the SSRS report showed. LatinoDecisions also found that Hispanics more likely to oppose same-sex marriage tend to be older and born abroad. But in spite of strong ties to Catholic and evangelical churches, Latinos prefer to separate religious beliefs on social issues from politics. A LatinoDecisions survey from December 2011 found that 63 percent of Latinos strongly disagree with religious leaders telling congregants which candidate to vote for, and over half of Hispanics said their religious beliefs would have no impact on how they would vote.
Perhaps most importantly, many Latinos who oppose gay marriage are not registered to vote or lack citizenship status. The SSRS report indicated that, of Latinos who voted in the 2008 election, 65 percent favor gay marriage. "There is a clear misperception among the general population about where Latinos stand on LGBT issues, partly because the media pushes this narrative that the culture and values of Latinos and LGBT progress are simply incompatible," said David Dutwin, vice president of SSRS.
In the end, jobs and the economy are most important to the Hispanic electorate, several LatinoDecision polls show. While some Hispanics in opposition of gay marriage said they would not vote for Obama, many analysts suggest that the issue may be marginal for the Latino vote. Vanessa Cardenas, director of the Center for American Progress' Project 2050, told EFE that when it comes to gay marriage, "it's not something that's really a priority for [Latinos]." In an opinion piece for CNN, political strategist Maria Cardona wrote: "Most Latinos believe these issues are deeply personal and should not be decided by politicians. They may be conservative in their beliefs on these subjects, but economic issues trump social ones."
Learn More: